8 BAY 6G MiniSAS 2U Rackmount

Hardware RAID Storage Solution

Click to Enlarge

Best In Class High Performance RAID Storage for HD, 2K and 4K Workflows

The CineRAID EditPRO is designed with Areca field proven RAID Technology, offering the highest enterprise level of data protection and performance, keeping your workflow uninterrupted when it matters the most. If a drive fails in RAID 5 protected mode, you can sustain a failed drive without losing any data and allows you to continue to operate. In RAID 6, it can sustain up to 2 concurrent drive failures without losing your important data. Our intuitive GUI (Graphical User Inerface) includes web browser support for ease of use which allows user to identify the status of each individual volumes as well as drives and make desired changes. (S.M.A.R.T supported)

To be notified in real-time when drive failures occurred, you can setup email alerts to your smart phone which will send you email notification whenever there are changes in your RAID volume status.

6G TECHNOLOGY

COOLING
Each whole enclosure is designed for maximum airflow and proper cooling in mind. The front ventilation holes draw cool air in, while exhausting warm air out the back. This high cooling air flow system is critical to achieve maximum performance and reliability of the components. Built in temperature monitors are constantly detecting for any un-healthy rise in heat or fan failures, and will alert you of the problem.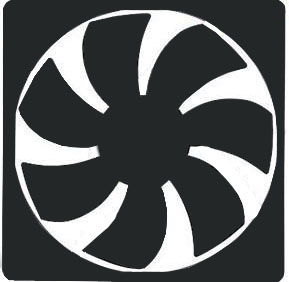 QUIET FAN DESIGN
POWER SUPPLY
200W Active PFC - 80 Plus energy efficient rated Active PFC (power factor correction) power supply with Quiet Ball Bearing Fan (x1).

80Plus rated affectively allows power distribution to operate at its maximum efficiency and automatically correcting the power factor, which ultimately leads to an improved stability and more reliable power supply.

SECURE CONNECTION

MANAGEMENT / MONITORS / ALERTS
SPECIFICATIONS
Capacity
Diskless, 32TB, 48TB and 64TB

Supports 8 independent 6Gb/s SATA or SAS HDD

(8) Enterprise Class 7200RPM SATA - (Not Included in Diskless model)
Interface
RAID Controller
PCIe (x8) 6G SATA/SAS RAID Controller (Dual External Ports) / 512MB DDR 2 ECC Cache

Supports RAID 0,1,1E,3,5,6,10 and JBOD

Multiple Adapter Support / Multiple RAID Selection and Volume

Array Roaming

Online RAID level/stripe size migration

Online RAID capacity expansion

Instant availability and background initialization

Auto drive insertion/removal detection and rebuild

Supports S.M.A.R.T., NCQ and OOB staggered spin up

Support (MAID) Massive Array of Idle Disks (Spin down of disk when not in use)

Supports command line interface (CLI)

SMTP support for email notification

SNMP support for remote notification
Dimensions and Weight
2U/3.5"(H) x 19"(W) x 16"(D)

Weight: 20lbs (without drives)
Compatibility
Environmental Requirements:
Operation Temprature: 0~60
Storage Temperature: -20~70
Operation Humidity: 5%~85%, non-condensing
Storage Humidity: 5%~95%
Kit Contents:
CineRAID EditPRO 8-Bay 2U Rackmount Storage Unit w/ Slide Rails
(8) Removable Drive Trays with 7200RPM SATA Enterprise Class Hard Drives - (No HDD included on Diskless model)
(2) 6G MiniSAS (SFF-8088 to SFF-8088) External Cable
Power Cable
Quick Start Guide
Warranty:
3 Year Limited Warranty
5 Year Enterprise HDD Warranty
Optional - +2 Year Additional / Advance Replacement Warranties
Pricing:

- Diskless RAID Solution w/ PCIe RAID Controller - $1999 CR-T08-X32TB - 32TB RAID Solution w/ PCIe RAID Controller + 8x 4TB Enterprise 7200RPM HDDs - $3999 CR-T08-X48TB - 48TB RAID Solution w/ PCie RAID Controller + 8x 6TB Enterprise 7200RPM HDDs - $4999 CR-T08-X64TB - 64TB RAID Solution w/ PCIe RAID Controller + 8x 8TB Enterprise 7200RPM HDDs - $5999

*Raw capacity shown. Actual capacity will vary depending on RAID level, formatting, partioning, computer's operating system and other factors.
Contact a CineRAID Sales Representative for a complete quote
Call 909-606-1111 or Sales@CineRAID.com
Find a CineRAID Dealer in your Area
---

Sales@CineRAID.com | Tel: (909) 606-1111 |




Copyright 2008 www.CineRAID.com All Rights Reserved