The ARC-1686 series presents the advanced hardware RAID technology in enhanced performance of using 2/4/6 Bays M.2 NVMe. The hardware RAID adapter support off module power loss protection (PLP), on-board hold up supercapacitor, and M.2 slot Power Disable feature for guaranteed data protection. This is designed in a 1.6 GHz dual-core ROC processor and PCIe Gen 4.0 host/device interface and supports RAID levels 0, 1 (Simple/Multi Mirroring), 10, Single Disk (Single/Dual/Triple) or JBOD.
Entry Level M.2 NVMe Hardware RAID Adapter
ARC-1686-6NOD
Physical Dimensions
107.2 (H) x 262 (L)
Drive Connector
6x M.2 Connector
I/O Processor
Tri-Mode Dual Core ARM A15 1.6Ghz ROC
Host Bus Interface
8-Lane PCI Express® 4.0
Drive Support
6Gb/s SATA, Gen 4.0 PCIe (NVMe)
Operating Voltage
12V
Operating Temperature
0 °C to 55 °C
Operating Humidity
10% to 85%, non-condensing
Hold-Up Supercapacitor
On-Board
Ultrafast Transfer Speed
Based on the Broadcom SAS3908/SAS3916 x8 PCIe Gen 4.0 to SAS/SATA/PCIe RAID on Chip (ROC) controller, the ARC-1686 entry-level RAID adapter raises the standard to higher performance levels with several enhancements including a new high performance 1.6 GHz dual core ROC processor, outstanding performance PCIe Gen 4.0 host and 12Gb/s SAS/SATA/PCIe (NVMe) interface bus interconnection.
Powerful Broadcom Tri-mode ROC Engine
At the heart of ARC-1686-xNOD is the incredibly powerful Broadcom SAS3908/SAS3916 dual-core ARM A15 tri-mode ROC, giving effortless performance as desirable. It delivers storage interface PCIe Gen 4 NVMe, 12Gb/s SAS, 6Gb/s SATA, and the security of data protection. Damage in a software RAID is considered as the consumption of massive computation and memory bandwidth on the host. The ARC-1686-xNOD hardware RAID relieves the parity generation burden from the host and maximizes application processing performance.
High Bandwidth PCI-E 4.0 Support
To run the PCIe Gen 4.0 slots in Gen 4 speed, please must install the ROC which supports PCI Express 4.0. If you install the PCIe3.0 ROC, the PCI Express 4.0 slots will run only at Gen3 speed.

Higher bit rate - 16.0GT/s

Higher bandwidth per lane - 2GB/s

Higher efficiency - 98.5% encoding efficiency
Professional Storage Connectivity
The ARC-1686-xNOD RAID adapter can operate in all three modes concurrently servicing NVMe, SAS or SATA drives that offers the operation of NVMe, SAS or SATA storage devices in a single RAID adapter. With a single ARC-1686-xNOD RAID adapter, system integrators can take full advantage of 6x PCIe Gen 4.0 M.2 x2/x4 NVMe drives or 6Gb/s M.2 SATA SSD drives
Off Module Power (OMP) Loss Protection
An enterprise storages need to ensure data integrity in the event of power losses and system crashes. The Power Loss Protection (PLP) is a hardware and firmware solution on the ARC-1686-xNOD RAID adapter to ensure that the NVMe SSDs integrity is maintained should a power loss event occur.
Fault LED Stay on for Troubleshooting
On-board Supercapacitor keeps M.2 fault LED status to easy identify failed drive when ARC-1686 RAID adapter removes from the system PCIe slot.
Power Disable Feature (PWRDIS)
The ARC-1686 Power Disable feature provides a M.2 management capability to electrically power cycle a physical NVMe drive in order to perform a power on reset. This can be useful if a NVMe drive locks up for some reason, and you don't want to send a technician to the physical RAID storage and manually "power down" and "power on" your system in order to power cycle the NVMe drive. Now, ARC-1686 can do this function automatically to check the drive is indeed failed or can be re-used. ARC-1686 Power Disable feature is similar as Power Disable Feature (PD) - disk cold boot management feature introduced with SATA 3.3 - February 2, 2016.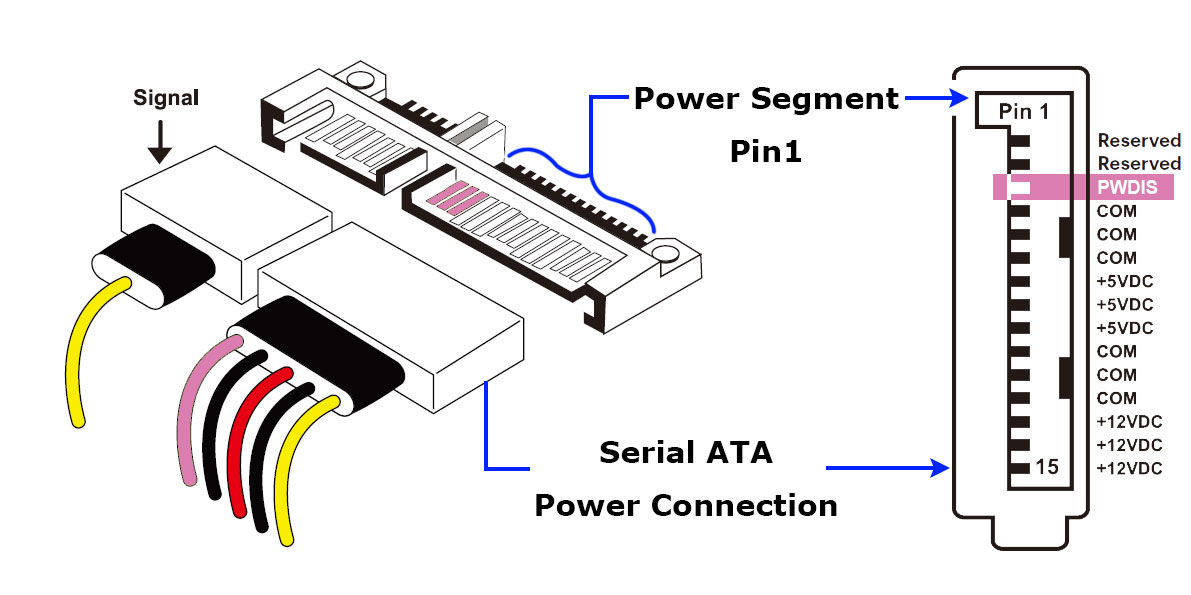 SED-Based Encryption
The ARC-1686-xNOD RAID adapter firmware Security Function, together with self-encrypting drives (SEDs), secures a data in the hard disks from unauthorized access or modification resulting from theft, loss or repurposing of drives. Protection is achieved by the SED hard drive that automatically and continuously encrypts the data on the drive without any user interaction.