Single Controller

Dual-Redundant Controller

Dual-Port 16Gb/s Fibre Channel 4U/24Bay Rackmount Hardware RAID Storage

Single or Dual Redundant RAID Controller

DAS / SAN Ready

The CineRAID 800F2 series is an affordable, reliable and scalable Dual-Port 16Gb Fibre Channel RAID Storage Solution. Optimized to accelerate and achieve the performance for even the most intensive digital video applications. The 800F4 Series delivers fast sustained throughput by using a hardware RAID controller powered by a Dual-Core 1.2Ghz RAID-on-Chip processor, DDR3 4GB Cache, a PCI-Express 3.0 bus architecture and the latest end-to-end 12Gb SAS backplane supporting the latest 12Gb SAS drives for uninterrupted fast transfers and smooth real-time playback that professional users need. A built-in 12G SAS expander provides instantaneous capacity expansion by simply adding additional cost effective SAS JBOD units when you need it, up to 256 drives total! All these features and proven performance is what makes the CineRAID 800F2 Series the best in class Dual-Port 16Gb Fibre Channel RAID solution taking on high resolution media formats like Ultra HD, 4K and even 8K workflows with ease and making it the best choice for leading post production and broadcasters worldwide.
Features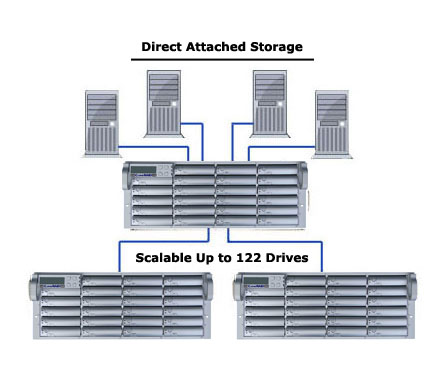 2x 16Gbps Fibre Channel Ports per controller

Hardware RAID-on-Chip (ROC) 1.2Ghz Dual Core Storage Processor

4GB DDR-1866 ECC Cache (Optional 8GB available)

Advanced PCI-Express 3.0 bus architecture

12Gb SAS Backplane

Single or Dual Active RAID controller support

4x 16Gbps Fibre Channel Ports per controller

12G MiniSAS HD Expansion Port per controller

Low-Noise Hot-Swap Smart Exhaust Fans

Redundant Hot-Swap Power Supply

Support Global and Dedicated Hot-Spare Drive

LCD Panel for easy configuration and instant alert notification

Optimized for Cinema - Designed for HD, 4K and 8K workflows

Optional - Battery Backup module to preserve cache contents during a power failure
Hardware RAID
RAID Levels: 0, 1, 1E, 3, 5, 6, 50, 60 & JBOD

Multiple RAID Selection

Online RAID level/stripe size migration

Online Array Roaming

Support Global Hot Spare and dedicated Hot Spare Disk

Automatic parity rebuild with hot-spare drive

Online capacity expansion and RAID level migration simultaneously

Instant availability and background initialization

Drive Spin Down function - Saves Power Consumption

Automatically starts bad Block-Scrubbing by "Schedule Volume Checking"

Max 256 Physical Drives

Online Volume Set Growth

Max 128 LUNs (Volume Set) per controller

Support S.M.A.R.T, NCQ and OOB Staggered Spin-UP capable drives

Automatic drive insertion / removal detection and rebuilding
Expansion
12Gb/s SAS Expansion Bus

MiniSAS HD External Port (SFF-8644)

Supports up to 256 drives total (w/ additional JBOD units)
Host Interface
Drive Support
2.5" & 3.5" 12Gb/s & 6Gb/s SAS/SATA HDD's or SSD's

SAS drives required in Dual Controller configurations
Management / GUI
Firmware-embedded Web Browser-based RAID manager via ethernet port

LCD Panel for easy configuration and instant alert notification

Firmware-Embedded SMTP manager for email notifications
Monitors / Indicators
System status indication through LCD, LED and alarm buzzer

LED Activity/Fault status indicator on each individual drive bay

All system events can be sent to multiple user alerts via email

Firmware-embedded SNMP agent for remote monitor of all events through LAN with no SNMP agent required
Host OS Support
Mac OSX, Windows Server 2008, Windows Server 2012, Windows 7, Linux, VMware, ESX
SAN Compatibility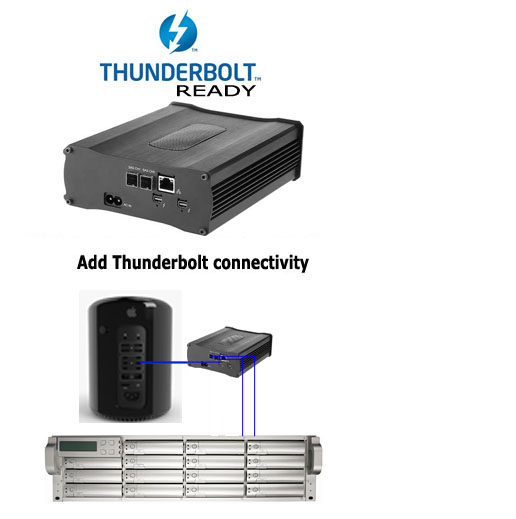 MetaSAN, SANmp, StorNext, Xsan, OpenE, VMware
System Cooling
Power Supply
Redundant 2 +1 Hot-Swap 500W 80+ Rated Energy Efficient, PFC, Load-Balancing

AC Voltage 110-230 VAC/AC Frequency 50-60Hz
Operating Temperature
Operating temperature: 40° to 95°F

Non-Operating temperature: -40° to 140° F
Relative Humidity
Dimensions / Weight
Compliance
Pricing
Warranty
3 Year Parts and Labor Warranty w/ 1st Year Advance Replacement for defective parts.

5 Year Enterprise Hard Drive Warranty

1 Year BBM - Battery Backup Module Warranty - If Applicable

Optional 2 Year Extended Warranty (5 Years Total)
Call or Email for a complete quote or questions you might have : Sales@CineRAID.com / 909-606-1111